Ink, paper, and entrepreneurship have always been in John Teeny's blood.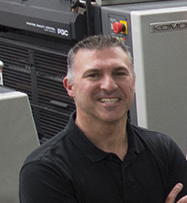 He started in the printing business while still in high school, working half-days in a large union printing company in Seattle.
For eight years after graduation, John worked for his employer, first as an apprentice and then as a journeyman press operator.  That early experience afforded John an appreciation for the craft and technical aspects of printing — a passion he retains to this day.
Eventually, John's entrepreneurial spirit led him out on his own with the purchase of Alpha Press in 1992. He grew the business and expanded, purchasing several other Seattle printing companies over the next few years.
In 2007, John purchased Nikko Media and adopted the Nikko Media name. He expanded his business further with the acquisition of Watermark Solutions in 2013. Today, Nikko Media is one of the premiere printers in the Pacific Northwest.
Throughout his career, John's passion for innovation has inspired him to stay on the leading edge of the latest trends and next big thing. Keeping his word is something he takes very seriously, and he takes great pride in delivering to his clients his best work, as promised and on time.
Why Choose Us

Expertise
We are professionals in our industry. With over 30 years of experience in commercial printing, no one in the Northwest offers more printing knowledge and expertise.

Selection
We offer the full range of printing services and products all under one roof. If it's done, we do it. If it exists, we offer it (and if it doesn't, we can probably make it).

Service
We love what we do and seeing our customers thrilled with our work. We'll go out of our way to make sure you receive exceptional results, delivered on budget and on time.

Quality
We take pride in delivering exceptional results every day. Our state-of-the-art equipment operated by real professionals ensures the highest print quality available.
What our clients say
Karen Chappell
I have worked with Nikko Media for several years and they provide excellent customer service and high-quality printing. They are extremely knowledgeable and always willing to share their expertise.
Karen C.
Red Fyve Design
Katya Matanovich
Washington Women's Foundation has counted on Nikko Media for all our printing needs for years. The staff is amazing and does high quality work. They take the time to learn about a project and do it right.
Katya M.
Washington Women's Foundation
Camille Robinson
I just received the invitations from Nikko Media and I wanted to say they are STUNNING. The team did such a good job - colors are spot on, the duplexing is seamless and everything is perfect. Thank you!
Camille R.
Robinson Design + Paperie